La fodera disegnata strategicamente e l'imbottitura in simil-piuma PrimaLoft® della NUOVA [ak] 2L Swash Jacket la rendono un capo che funziona in accordo con la biologia del tuo corpo per incrementare calore e comfort in un modo totalmente inedito.
La ricetta include la possibilità di scegliere tra il tessuto Ripstop GORE-TEX® 2L o il tessuto GORE-TEX® 2L Genoa Denim, entrambi completamente sigillati con nastratura GORE-SEAM®, oltre a una fodera progettata con DRYRIDE Ultrawick™ per incrementare la traspirazione. Tecnologia pazza o puro genio, dev'esserci una ragione se questo cavallo da tiro leggermente isolato è il capo a cui si affida Jussi Oksanen per il backcountry.
Scroll To Learn More

Mirata a prestazioni sempre più alte con una calzata articolata e specifica per il riding energico. Con tagli e configurazioni riprogettati per adattarsi meglio alla flessibilità naturale del corpo durante riding e ascensioni, il risultato è un più alto grado di mobilità per uno stile e un design funzionale migliorati.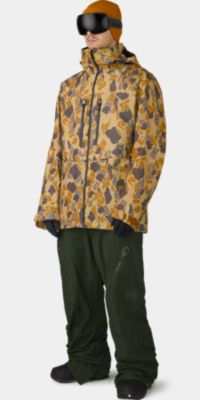 2L Swash Snowboard Jacket

Midweight warmth with venting options. Stay warm while wearing less layers underneath.
Mapped with NEW PrimaLoft® Insulation [40G Upper Back and Front Body]
NEW Engineered DRYRIDE Ultrawick™ Lining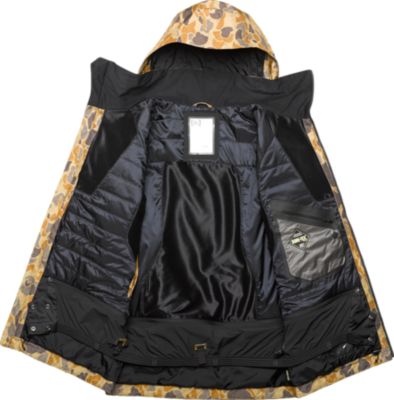 As waterproof and breathable as it gets. Don't forget your snorkel!
GORE-TEX® Fabric [Printed 2-Layer] [Vintage Duck Camo and Workwear Print Colorways]
NEW GORE-TEX® Fabric [Genoa Denim 2-Layer] [True Penny Colorway]
NEW GORE-TEX® Fabric [Ripstop 2-Layer] [All Other Colorways]
NUOVA ghetta in vita elastica e impermeabile con interfaccia giacca-pantalone
Jacket Features
Cuciture totalmente nastrate

Nastro GORE-SEAM® [13mm]

Cerniere YKK® opache e impermeabili

Polsini Powder Gasket

Garanzia a vita