La doublure et l'isolation PrimaLoft® légère de la NOUVELLE [ak]™ 2L Stagger Jacket résultent en une veste qui répond à la biologie de ton corps pour accroître drastiquement ton niveau de chaleur et de confort.
Au menu, tu as le choix entre une matière GORE-TEX® 2L ripstop ou une toile denim GORE-TEX® 2L Genoa, toutes deux entièrement scellées en GORE-SEAM®, plus une doublure technique DRYRIDE Ultrawick™ pour booster sa respirabilité. Technologie de fou ou pur génie ? Il y a une raison pour laquelle cette veste prête à tout et légèrement isolée est celle sur laquelle compte Jussi Oksanen en backcountry.
Scroll To Learn More

Conçues pour offrir une coupe articulée orientée vers la performance de manière à profiter d'un ride énergique. Les lignes de coupe et des patrons ont été réétudiés dans le but de reproduire plus fidèlement les mouvements naturels du corps en snowboard et dans les ascensions. Le résultat est un plus large degré de mobilité en vue d'améliorer style et fonctionnalités au sein de la gamme [ak]™.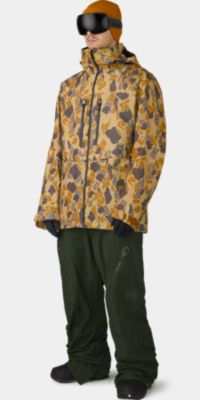 2L Swash Snowboard Jacket

Midweight warmth with venting options. Stay warm while wearing less layers underneath.
Mapped with NEW PrimaLoft® Insulation [40G Upper Back and Front Body]
NEW Engineered DRYRIDE Ultrawick™ Lining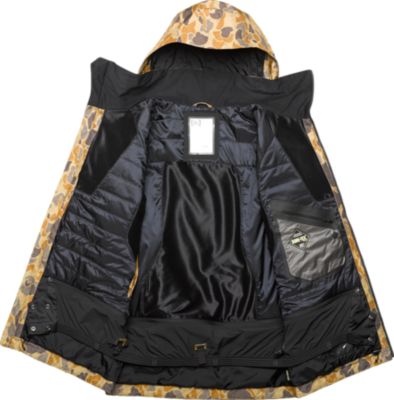 As waterproof and breathable as it gets. Don't forget your snorkel!
GORE-TEX® Fabric [Printed 2-Layer] [Vintage Duck Camo and Workwear Print Colorways]
NEW GORE-TEX® Fabric [Genoa Denim 2-Layer] [True Penny Colorway]
NEW GORE-TEX® Fabric [Ripstop 2-Layer] [All Other Colorways]
NOUVELLE jupe pare-neige amovible étanche avec interface veste / pantalon
Jacket Features
Coutures collées partout

Ruban adhésif GORE-SEAM® [13 mm]

Zips imperméables mats YKK®

Poignets pare neige

Garantie à vie