The NEW [ak] 2L Swash Jacket's strategically designed lining and PrimaLoft® down-like fill results in a jacket that works with your body's biology to enhance warmth and comfort in unprecedented ways.
The recipe includes your choice of either GORE-TEX® 2L ripstop fabric or GORE-TEX® 2L Genoa Denim fabric, both fully sealed with GORE-SEAM® tape, plus an engineered DRYRIDE Ultrawick™ lining for ramped-up breathability. Crazy tech or pure genius, there's a reason this lightly insulated workhorse is the one Jussi Oksanen relies on in the backcountry.
Scroll To Learn More

Fit articulado y de alto rendimiento con un corte y patrones rediseñados para coincidir con la flexión natural del cuerpo durante el riding y las caminatas. El resultado deriva en un mayor grado de movilidad que mejora la funcionalidad del diseño y del estilo [ak].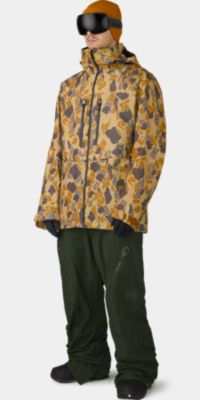 2L Swash Snowboard Jacket

Calidez de peso medio con opciones de ventilación. Mantente caliente con solo un par de capas.
Mapped with NEW PrimaLoft® Insulation [40G Upper Back and Front Body]
NEW Engineered DRYRIDE Ultrawick™ Lining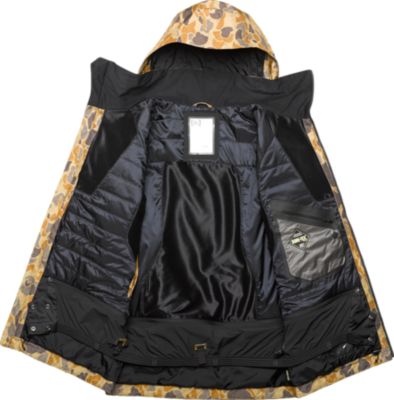 Transpirabilidad y impermeabilidad máximas. ¡No olvides tus máscaras de buceo!
GORE-TEX® Fabric [Printed 2-Layer] [Vintage Duck Camo and Workwear Print Colorways]
NEW GORE-TEX® Fabric [Genoa Denim 2-Layer] [True Penny Colorway]
NEW GORE-TEX® Fabric [Ripstop 2-Layer] [All Other Colorways]
NUEVA Polaina de Cintura Impermeable, Elástica y Desmontable con Interfaz Chaqueta-Pantalón
Jacket Features
Costuras Totalmente Selladas

Cinta de Sellado GORE-SEAM® [13mm]

Cremalleras Mates YKK® Resistentes al Agua

Puños para Nieve Polvo

Garantía de por Vida